Henry Martin
From Wooljersey
Henry S Martin 1859 - 10 Oct 1911
Clubs
---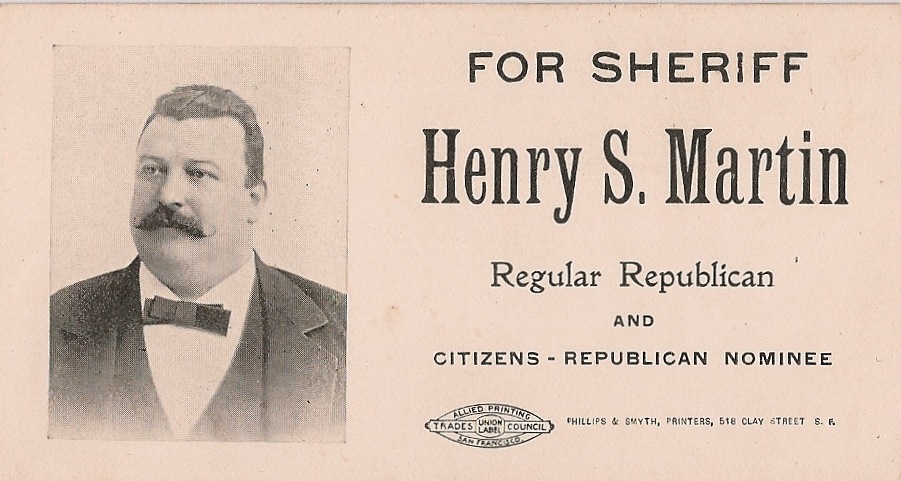 20. Elected November 8, 1898: Henry S. Martin

Candidates:
Henry S. Martin, Republican (28,134)
Theodore F. Bonnet, Democrat (23,491)
J. H. Hall, Socialist Labor Party (1,566)

Martin served one year after the new City Charter called for new elections.
Martin did not seek re-election in November 1899.
Chronological List of SF Sheriff Elections and Candidates 1850-2020
HE IS AN ENTHUSIAST.

Henry Martin Now Rides a Bike for Pleasure.

Henry Martin, capitalist and worthy grand treasurer of the Native Sons of the Golden West, is now an enthusiastic bicycle-rider. He started in with the idea that the exercise would reduce his weight. He was not disappointed, as he has lost twenty-two pounds avoirdupois in about three weeks. The success of the experiment has given him a liking for the exercise and the "bike" is now one of Mr. Martin's most cherished possessions.

His favorite exercise ground is Washington square and there is not a night in the week but what "the most popular man in the order of Native Sons" can be seen at exercise. When he first started in Henry tipped the beam at 300 pounds. Now he only weighs 278 pounds and has a complexion like a healthy schoolboy. The youths of the neighborhood have tried and tried again to beat him in trial spins around the square, but in a spurt he can win hands down. Over a distance he is not so good, as his weight tells. When Mr. Martin made the pleasing discovery that he could control a "bike" he at once procured a complete outfit. His bloomers and sweater are of the latest pattern and his cap is of Scotch plaid. When in full uniform he presents a striking appearance and his friends compliment him. Every Sunday Mr. Martin goes to Oakland and takes a ten-mile spin. As soon as Deputy Collector Jerome has recovered from the effects of his last accident, Mr. Jerome intends to challenge him to a contest on the Oakland racetrack. In spite of the acknowledged ability of the Customhouse man as a bicycle-rider there are many who are willing to bet that Martin will win out in the end.
THE WHEELMEN. - San Jose Road Club's Five-Mile Road Race To-Morrow. - HE IS AN ENTHUSIAST. - Henry Martin Now Rides a Bike for Pleasure. - San Francisco Call, 3 August 1895
Henry Martin, the grand treasurer of the Native Sons, is having a special wheel built for him. The reason for this will be more apparent when it is stated that Mr. Martin's weight is 350 pounds.
THE WHEELMEN. - San Francisco Call - 10 August 1895
Pages which link here: